The J·Walker Marathon and Sprint models were designed with one key objective: to be the best travelling guitars. So good in fact that it is likely to become your everyday guitar. The design criteria were the use of a 24 ¾ inch scale, standard components (including the tuning keys), noble wood like mahogany and maple for a warm tone, glued on neck for optimal sustain and comfort. All these in a compact and ergonomic guitar that will fit easily in a airplane overhead bin.
The J·Walker Marathon models come in various colors and style, with different pickups eto cover the needs of all type of guitar playing.
The J·Walker Sprint model is the J·Walker entry model, but is built with the same care and attention to details as is the Marathon, for an exceptional value.
March Guitars by Berlemar Inc.
Copyright 2008, Berlemar Inc.
The J·Walker Marathon/Sprint Series
Simply the best travelling guitar.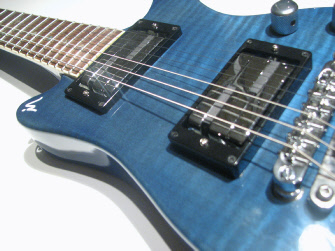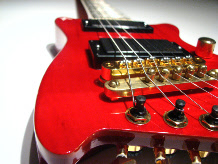 Specifications
Neck:
C shape
Radius: 12 inch (30.5 cm)
Frets: 22
Scale: 24 ¾ inch
Nut width: 1 23/32 inch
Dimensions:
Length: 30 inch (76.2 cm)
Width: 8 inch (20.3 cm)
Thickness: 1 7/8 inch body (4.8 cm) body, 2 5/8 inch total (6.7 cm)
Bridge: Tune-o-matic with rollers
Tail Piece: Custom made, solid brass with bronze rollers.
Pickups:
Lace D100 humbucker (neck): 11.7K ohm, 4.7 henries
Lace D150 humbucker (bridge): 14.0K ohm, 5.9 henries
Lace Arena humbucker (neck): 14.0K ohm, 8.9 henries
Lace Arena humbucker (bridge): 19.6K ohm, 8.9 henries
Lace Alumitone Humbucker (neck & bridge) 3.4K ohm, 3.4 henries
Lace Deathbucker (neck & bridge): 5.0K ohm, 3.4 henries
Lace Hemi Humbucker (neck): 7.0K ohm, 3.5 henries
Lace Hemi Humbucker (bridge): 10.0K ohm, 4.6 henries
Specifications are subject to change without notice